Today was our infusion. Gary went to bed last night in a bad mood. Woke up in a bad mood. Throw some steroids on top of that, and look out. My poor little guy. I felt so helpless as a mother. Thank heavens for cheeseburgers (that will make sense in a moment). After Gary's pulse he lost it. He lost it like I have never seem him lose it before. I remember the very first time in the infusion center and listening to a young man screaming at the top of his lungs. I could hardly believe it was us this time. I don't remember what set him off but suddenly he was screaming stop it at everyone (me, the nurses, innocent bystanders). He screamed with intense fury. With great effort he swung, scratch, hit, pitched kicked anything he could get his hands on. I was calm but in awe. A small little guy with no hair and an ng tube in his nose was in the next room over. Gary screamed with like fireworks on the forth of July, "SHUT UP BABY! SHUT UP!!!!!!"
Oh my.
What do I do? I tryed everything. I tried hugging him. No touching. He eventually ended up on the floor, throwing himself about threatening to pull his IV out. I asked the nurse to please double check the correct dose of steroids was given. She quickly went to check. It was the same as he has always gotten. I then asked her to maybe page the doctors and see what they think. He has been mad before and hard to deal with before, but nothing like this.
Then the lunch tray came in. I quickly snatched it from the nurse and lifted the top to show him his cheeseburger he had been asking for all morning. I showed him the ketchup and how he could dip his fries in it. He went from 90 miles an hour to about 25 miles an hour in 15 seconds.
Cancel that page to the doctors.
Now those were some serious steroid munchies. I just needed something to reset the switch. Thank you cheeseburger.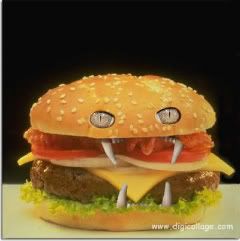 Angry Cheeseburger